Doors to WellBeing Webinar with the Copeland Center
October 31, 2023
CLICK for required preregistration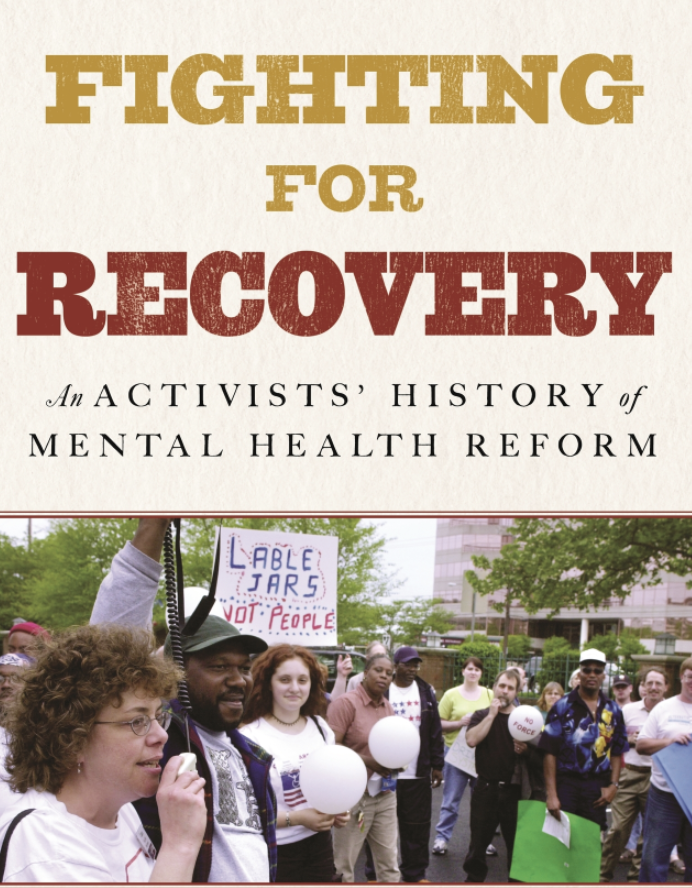 Fighting for Recovery reveals how grassroots activists challenged medical authority and popular opinion to insist upon recovery for people managing a mental illness. Since the middle of the last century, people with a lived experience have upended conventional beliefs that deterioration was inevitable. With an abiding pursuit of choice, they opposed the use of force and built a movement with innovative service options.They focused on person-centered needs, the development of skills with respect for strengths, and situated their work within broad-based fights for equity and social justice.
Readers will meet leaders from California to Maine who campaigned for peer services, who designed non-coercive crisis programs, and who sought respite rather than institutionalization while decrying the injustice of criminalizing mental illnesses. They will discover the charisma of leaders such as Howie the Harp, Judi Chamberlin, Sally Zinman, and dozens more, who insisted on humane services while fighting for recovery.
Fighting for Recovery is available for pre-order.
Indiebound Bookshop Amazon Barnes&Noble Books A Million
What READERS are saying
"a ground up rather than a top down approach. . an important contribution to the historial literature."
--Matthew Rozsa, Salon
"In this essential history, Phyllis Vine recounts the long movement for liberation and recovery of people with mental illness and those who've led this imperative and incredible work."
--Karla J. Strand, Ms. Magazine
"Borne out of love for a brother, executived with storytelling flair, and featuring a parade of inpassioned individuals, FIGHTING FOR RECOVERY introducded me to waves of brilliant reforms - and reminded me of the villains who thwarted them. . .Armed with that sense of solidarity and this illuminating history, I feel newly resolved to keep fighting."
--Rachel Simon, author of Riding The Bus WIth My Sister and The story of Beautiful Girl
"an astonishing narrative . . . written in a crisp and clear fashion. . .This is a one-of-a-kind guide for understanding the complex fight to create healing and caring environments, and a clarion call for the next generations to finish the job."
—Dr. Courtenay Harding, former director, Center for Rehabilitation and Recovery at the Coalition of Behavioral Health Agencies.
"You may have wondered why 'psychiatry has been slow to adopt recovery programs.' That verdict (coming after more than three hundred pages of painstakingly documented history) will be less mysterious—but not one iota less sad—to any reader of what came before it."
—Kim J. Hopper, author of Reckoning with Homelessness
"must-reading for anyone who wants to understand how the mental health field has developed and where it must go in the future."
—Ron Manderscheid, PhD, Adjunct Professor, Bloomberg School of Public Health, Johns Hopkins University
"a long-overdue history of the mental health rights movement in America that is both poignant and scholarly. . . a singular accomplishment."
—Steve Coe, former CEO of Community Access
"As the daughter of a father who suffered from schizophrenia. . .Vine's book finally gives me hope."
—Arlene Notoro Morgan, assistant dean, Klein College of Media and Communications at Temple University, and advisory member, Rosalynn Carter Journalism Fellowship on Mental Health.
"Its historic sweep details the development of our movement over decades and provides a vivid reminder that the fight for recovery and rights requires us to stay vigilant."
—Harvey Rosenthal, CEO, New York Association of Psychiatric Rehabilitation Services
"with compelling examples, the impact that former consumers of mental health services have had and continue to have on destigmatizing mental illness. . . She takes us behind the scenes to explore the possibility of recovery."
—Risdon N. Slate, author of The Criminalization of Mental Illness